Sparks students' natural curiosity while learning about curriculum-relevant topics with ESA's teach with space program.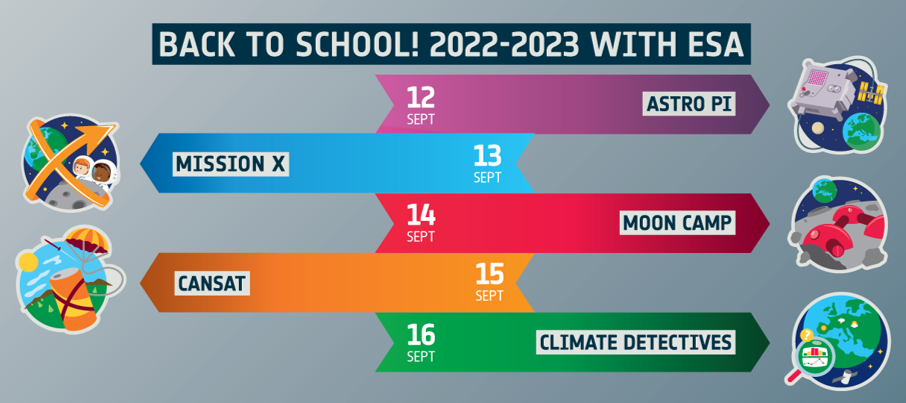 After a successful school year of inspiring teachers and students all over Europe with space, ESA is happy to announce the return of our school projects in 2022–2023.[1] Be ready for exciting challenges, from training like an astronaut to building your own 'micro-satellite'. Choose your favourite, note the kick-off dates, and get ready to teach with space!
The projects
Age: up to 19 years old
Registration opens: 12 September
Age: 8–12 years old
Registration opens: 13 September
Age: up to 19 years old
Registration opens: 14 September
Age: 14–19 years old
Registration opens: 15 September
Age: up to 19 years old
Registration opens: 16 September
Practical details
Participation in these projects is free and open to school students in all 22 ESA Member States, as well as Lithuania, Latvia, Slovenia, Canada, and Malta. The Moon Camp Challenge and Mission X are open worldwide. For more information about the eligibility criteria, please consult the individual project guidelines.
If you want to know more about the school projects – how to apply, how to get started, supporting resources and more – join the Teach with Space Information Session on 27 September 2022. In this session we will also go through the calendar of online training opportunities for primary and secondary teachers and educators for the 2022–2023 school year.
Save the date and stay tuned to https://www.esa.int/Education/Teachers_Corner/ for more information. We look forward to another fantastic year of projects with ESA Back to School!
---