​European countries produce more than half of the world's wine – and drink a lot of it too! These hands-on activities for schools reveal the science behind the perfect wine.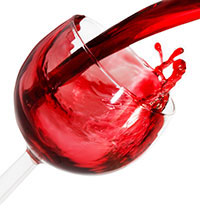 The age at which it is legal to drink alcohol varies from country to country, but most teachers would agree that drinking wine during chemistry lessons is inappropriate (and potentially dangerous!). However, producing and analysing wine at school can be fun and educational. These activities, developed at the science centre Experimentaw1, invite students aged 15-18 to become vintners for a day, using analytical techniques to explore the changes that take place during the wine-making process.
Wine is produced by fermenting grape juice (which has particularly high levels of sugar) using specialised yeast cells. The sugar is converted into ethanol and carbon dioxide under anaerobic conditions:
C6H12O6 + 2 ADP + 2 Pi = 2 C2H5OH + 2 CO2 + 2 ATP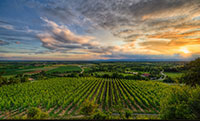 The three main factors that determine the quality of the final product are sweetness, alcohol content and acid content. Using standard methods of a commercial wine laboratory, these three activities for the school laboratory explore how the quality of the starting grape juice and the must (fermenting grape juice) affect the final product. Each activity takes approximately 20-30 minutes.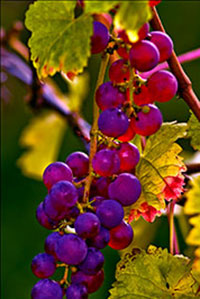 In activity 1, students can determine the sugar content of grape juice using refractometry. Activity 1a (see below) offers an alternative, based on density measurement.
The exact determination of the alcohol content in commercial wines is performed by distilling the ethanol, then measur
ing the viscosity of the distillate using sophisticated apparatus. In activity 2, students can use the equipment used by hobby winemakers – a vinometer – to measure the alcohol content of the must and wine.
A well balanced wine needs a certain amount of fruit acid; the total acid content is a very important measure, because it directly affects the flavour. In activity 3, the acid content is determined by pH titration.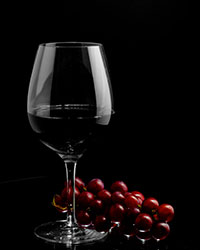 Four further activities can be downloadedw2:
Activity 1a: in an alternative to activity 1, students determine the sugar content of grape juice using density measurement instead of refractometry.
Measuring levels of carbon dioxide, one of the products of the fermentation, is a useful way to monitor the progress of the reaction. In activity 4, students quantify CO2 levels over the course of the reaction by literally shaking the gas out of solution.
In activity 5, students use light transmittance to investigate the difference that fining (the addition of substances that clarify the wine by precipitation) makes to the cloudiness of the finished product.
In activity 6, students examine fermenting yeast under the microscope.
To supply the must used in these experiments, you will need to set up a simple grape juice fermentation at least one day in advance, using red grape juice (e.g. from the supermarket). You will also need some basic chemistry laboratory equipment, plus a vinometer for measuring alcohol content, a pycnometer (also known as a specific gravity bottle) and a refractometer. You can download a description of how to set up the fermentationw2.
Determining sugar content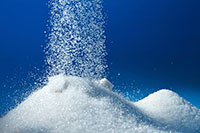 The sweetness of the wine is determined by the amount of sugar remaining after fermentation, together with the total acidity of the wine. A dry wine has up to 9 g/l sugar and an acidity level that is at least 2 g/l lower than the sugar content. A medium-dry wine has a sugar content of 9-18 g/l and an acidity level that should be no more than 10 g/l lower than the sugar content. A sweet wine has 18-45 g/l of sugar. To ensure the correct balance of sugar, acidity and alcohol in the final wine, it is important to determine the starting sugar concentration; if necessary, limited amounts of sugar can be added before fermentation.
The increased density of the must (compared to water) is mainly due to fermentable sugar. Density measurements or refractometry can be used to measure the sugar content, which in Germany is expressed as the must weight and measured in Oechsle (°Oe). In the English-speaking world, the sugar content is expressed in Brix (°Bx), which represents the concentration of dissolved sugar, in weight percent (wt%).
The must weight is calculated by:
must weight = (density – 1) x 1000
Where must weight is measured in °Oe and density in g/l.
As a rough estimate, 1°Oe corresponds to 2.37 g/l sugar (i.e. about 0.237 °Bx). Therefore, the sugar concentration can be estimated as:
sugar concentration = must weight x 2.37
Where sugar concentration is measured in g/l.
The fermentation of all fermentable sugar in a solution of 100 °Oe (sugar concentration 237 g/l or 23.7 °Bx) yields approximately 100 g/l ethanol (or 10 wt% alcohol). Because ethanol has a density of 0.79 g/ml, this converts to 12.67 vol% ethanol. Thus:
alcohol concentration (in % volume) = alcohol concentration (in g/l) x 0.1267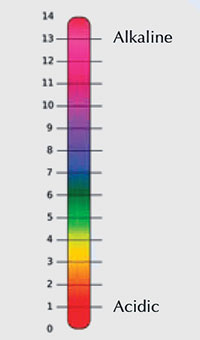 Total acid content
Fruit juices can contain several different acids, including tartaric, malic, citric and oxalic acid, in differing ratios, depending on the type of fruit. The predominant acid in wine is tartaric acid, which has a pH between 3 and 4. However, due to the complex mixture of different acids and bases, proteins and salts, the total acid content of wine cannot be estimated from the pH value alone. Instead, it is determined by titration to neutrality and expressed as total equivalent amount of tartaric acid in g/l. The acid content of wine is typically 4-8.5 g/l but can be as high as 15 g/l. It must always be considered in conjunction with the amount of remaining sugar (see 'Determining sugar content').
Tartaric acid (molecular weight 150 g) is a diprotic acid (containing two hydrogen atoms per molecule that can dissociate in water as protons) that can be fully neutralised with sodium hydroxide. Because 1 mol NaOH neutralises 0.5 mol tartaric acid (75 g/l), 1 ml 0.1 M NaOH neutralises 7.5 mg tartaric acid.
HOOC-CH(OH)-CH(OH)-COOH + 2NaOH → Na+-OOC-CH(OH)-CH(OH)-COO– Na+ + 2H2O
Acknowledgements
The author would like to thank the wine laboratory of Pfäffle GmbH in Heilbronn, Germany, for support during the development of the activities. He would also like to thank in particular Christine Dietrich and Karsten Wiese from the teacher-training college in Heilbronn for their collaboration.
---